The new Manchester United boss claimed to have brought through 49 young players during his managerial career to date.
It is a surprising number to hear, because Mourinho is renowned for relying more one experimented player even when there are talented young players.
In the introductory press conference, the manager was asked about his intentions to bring through youth players and he was prepared for the question, here is his answer:
"Do you know how many young players I have promoted to the first team from academies? I have promoted 49 players from the academies to the squad. I never promote players because of need - I did it because of conviction and decision. I did 49 - some of them are big names, they are Champions League winners, in the Euros, playing for national teams."
Let's take a look at those 49 players, by the clubs Mourinho managed:
Benfica
Players promoted: Diogo Luis and Geraldo Alves.
The first one was a left back, he played 26 games for Benfica then he was loaned out to smaller teams in Portugal before ending his career in Cyprus. He played 192 games in his career scoring 11 goals.
Geraldo Alves didn't succeed at Benfica and after playing for a couple of Portugal teams he moved to AEK Athens and since 2010 he plays in Romania, first at Steaua Bucuresti winning a Romanian cup. He repeated that performance with Petrolul Ploiesti. Last season he won the title with Astra Giurgiu.
Uniao Leiria
Player promoted: Joao Paulo Andrade.
He was captain in Mourinho's team at Leiria, then he moved to Porto where he won two titles but he only played 13 games for Porto. He moved to romanian side Rapid Bucharest, then after another spell in Portugal at Vitoria Guimaraes he moved to Cyprus. His contract expired this summer.
Porto
Players promoted: Ricardo Costa, Joca, Hugo Luz, Reinaldo, Elias, Bruno Moraes,
Hugo Almeida, Pedro Ribeiro, Bruno Vale, Andre Vilas Boas.
Ricardo Costa is one of the most successful players in this list. He won the Champions League and four league titles with Porto, he became german champion with Wolfsburg. The center-back also played for Lille, Valencia and Paok Saloniki and this summer expired his contract with Granada. He reached 22 caps for Portugal, scoring 1 goal.
Hugo Almeida is another notable name on Mourinho's list. He was part of Porto's Champions League winning team, he also won a german cup with Werder Bremen. From Bremen he moved to Istanbul, playing for Besiktas when he won another Cup. Last season he was playing for Hannover, where his contract expired this summer. He reached 57 caps for Portugal scoring 19 goals.
Hugo Almeida - Werder Bremen (Source: uefa.com)
Chelsea(First spell)
Players promoted: Steven Watt, Lenny Pidgeley, Anthony Grant, Jimmy Smith, Ben Sahar, Michael Woods, Sam Hutchinson.
One of the notable from this list is Ben Sahar. After three substitute appearances for Chelsea in the Premier League, he had a couple of loan moves at Hapoel Tel Aviv, Auxerre and Arminia Bielefeld and another couple of permanent stints at Espanyol and Willem II and is now at Hapoel Be'er Sheva. He also reached 37 appearances for Israel national team scoring 6 goals.
Another player who did partly good is Sam Hutchinson. After making his senior debut in 2007. Despite having some injuries and a couple of loan moves he joined Sheffield Wednesday in 2014 on a permanent deal.
Inter Milan
Players promoted: Davide Santon, Rene Krhin, Giulio Donati, Francesco Bolzoni, Alen Stevanovic.
Davide Santon made his debut under Mourinho at Inter, but his career stalled after injury and he moved to Newcastle United where he played 82 Premier League games. In 2015 he moved back to Inter. He also reached 7 caps for Italy.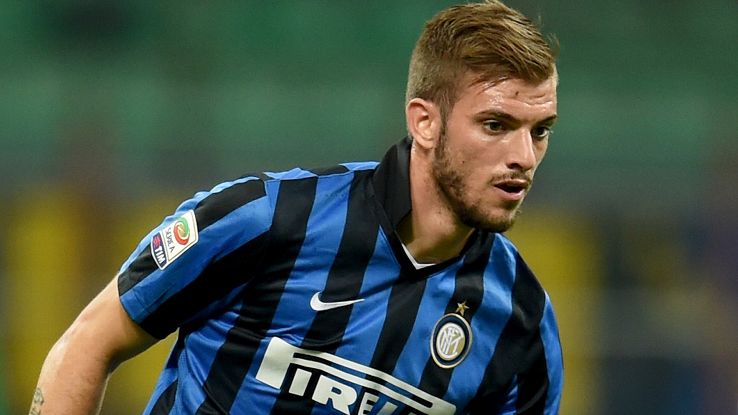 Davide Santon - Inter Milan (Source: espnfc.com)
Rene Krhin made his first-team debut at the San Siro in 2009, but didn't last long at Inter, joining Bologna a year later. The Slovenian youngster changed a couple of teams, moving back to Inter, then loaned out to Cordoba before moving permanently to Granada. He reached 25 appearances for Slovenian national team scoring 1 goal.
Giulio Donati made his debut for Inter first-team in a Coppa Italia match in 2009, but he couldn't secure a place in the first-team, he was loaned out a few times before moving to Bayer Leverkusen in 2013 and in january this year he signed with Mainz.
Real Madrid
Players promoted: Juan Carlos, Pablo Sarabia, Antonio Adan, Alvaro Morata, Alex Fernandez, Nacho, Tomas Mejias, Jese, Joselu, Jorge Casado, Pedro Mendes, Jose Rodriguez,
Denis Cheryshev, Casemiro, Fabinho, Omar Mascarell, Diego Llorente.
Pablo Sarabia is the first important name on the list, he made one appearance off the bench in the Champions League and he joined Getafe, where he spent five seasons, he made 145 appearances scoring 15 goals and providing 21 assists games later. He joined Sevilla this summer.
One of the most important name on the whole list is definitely Alvaro Morata, he was sold to Juventus where he made 93 appearances scoring 27 goals and providing 19 assists. This summer Real Madrid exercised their buy-back clause in his contract and signed him back. At a young age he already won the Champions League, he is one time Spanish champion and two times Italian champion. He already has 13 caps for Spain scoring 6 goals.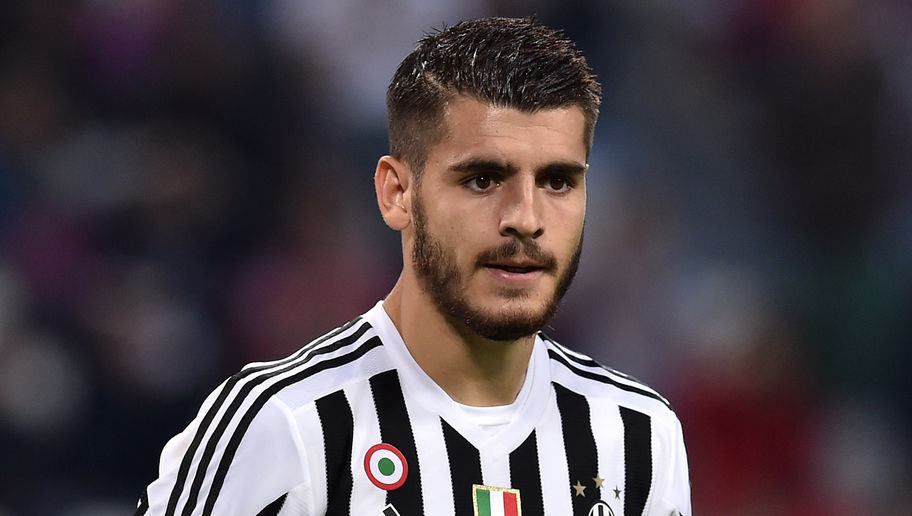 Alvaro Morata - Juventus (Source: 90min.com)
Nacho is still at Real Madrid, where he is a useful squad player doing his job but without excelling. He played 79 games for Real Madrid so far and reached 3 caps for Spain making his debut in 2013.
Jese is another squad player, mainly a backup for Zinedine Zidane's side. He is 23-year-old and he already played 94 games for Los Blancos scoring 18 goals and providing 16 assists.
Denis Cheryshev is mostly famous for getting Madrid kicked out of the Copa del Rey last season, when he featured against Cadiz despite being suspended. He was loaned to Valencia in February, and this summer he joined Villarreal on a permanent deal. Cheryshev reached 9 caps for Russia.
Casemiro made his debut under Mourinho but became a key man for Madrid last year under Zidane, starting the Champions League final success against Atletico in May. He reached 11 caps for Brazil since 2011.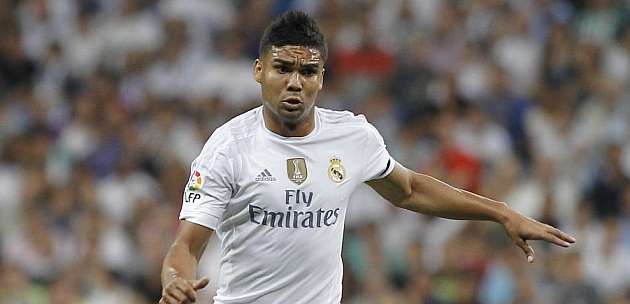 Casemiro - Real Madrid (Source: marca.com)
Chelsea(Second spell)
Players promoted: Tomas Kalas, Lewis Baker, John Swift, Dominic Solanke, Andreas Christensen, Ruben Loftus-Cheek, Bertrand Traore.
Tomas Kalas made two Premier League appearances for the Blues in 2013/14, but since than he was loaned out to Middlesbrough, where he has spent the last two seasons, making 47 appearances for the Championship team. He promoted to the Premier League with Middlesbrough.
Andreas Christensen made his Blues debut in a League Cup game in October 2014, the defender spent last season at Borussia Monchengladbach on loan, where he was named as their Player of the Season. Has another year on his Gladbach loan deal, but according to reports the germans want to make the deal permanent. He reached 6 caps for Denmark since his debut in 2015.
Ruben Loftus-Cheek is the most successful Chelsea academy graduate of recent years, the 20-year-old made 13 appearances last season scoring 1 goal and providing 1 assist. He is yet to make his debut for England's senior team but he played 13 games for the Under 21 team scoring 4 goals.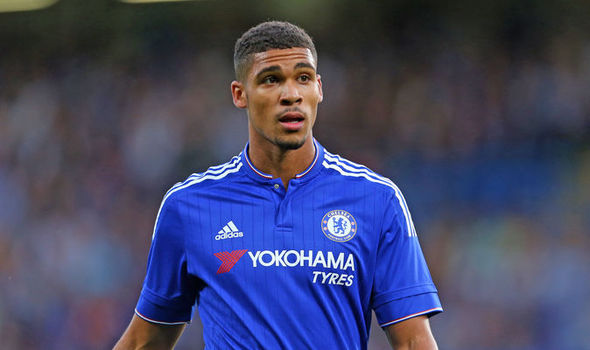 Loftus-Cheek - Chelsea (Source: express.co.uk)
Bertrand Traore is the last name on the list and he made 16 appearances for the Blues last season scoring 4 goals and providing 1 assist. Even more impressing is his international career. The 20-year-old made 26 appearances for Burkina Faso scoring 3 goals.
Complete List
| # | Player | Club | Year |
| --- | --- | --- | --- |
| 1 | Diogo Luis | Benfica | 2000 |
| 2 | Geraldo Alves | Benfica | 2000 |
| 3 | Paulo Andrade | Uniao Leiria | 2001 |
| 4 | Ricardo Costa | Porto | 2002 |
| 5 | Joca | Porto | 2002 |
| 6 | Hugo Luz | Porto | 2003 |
| 7 | Reinaldo | Porto | 2003 |
| 8 | Elias | Porto | 2003 |
| 9 | Bruno Moraes | Porto | 2003 |
| 10 | Hugo Almeida | Porto | 2003 |
| 11 | Pedro Ribeiro | Porto | 2004 |
| 12 | Bruno Vale | Porto | 2004 |
| 13 | Vilas Boas | Porto | 2004 |
| 14 | Steven Watt | Chelsea | 2005 |
| 15 | Lenny Pidgeley | Chelsea | 2005 |
| 16 | Anthony Grant | Chelsea | 2005 |
| 17 | Jimmy Smith | Chelsea | 2006 |
| 18 | Ben Sahar | Chelsea | 2007 |
| 19 | Michael Woods | Chelsea | 2007 |
| 20 | Sam Hutchinson | Chelsea | 2007 |
| 21 | Davide Santon | Inter | 2008 |
| 22 | Rene Krhin | Inter | 2009 |
| 23 | Giulio Donati | Inter | 2009 |
| 24 | Francesco Bolzoni | Inter | 2009 |
| 25 | Alen Stevanovic | Inter | 2010 |
| 26 | Juan Carlos | Real Madrid | 2010 |
| 27 | Pablo Sarabia | Real Madrid | 2010 |
| 28 | Antonio Adan | Real Madrid | 2010 |
| 29 | Alvaro Morata | Real Madrid | 2010 |
| 30 | Alex Fernandez | Real Madrid | 2011 |
| 31 | Nacho | Real Madrid | 2011 |
| 32 | Tomas Mejias | Real Madrid | 2011 |
| 33 | Jese | Real Madrid | 2011 |
| 34 | Joselu | Real Madrid | 2011 |
| 35 | Jorge Casado | Real Madrid | 2011 |
| 36 | Pedro Mendes | Real Madrid | 2011 |
| 37 | Jose Rodriguez | Real Madrid | 2012 |
| 38 | Denis Cheryshev | Real Madrid | 2012 |
| 39 | Casemiro | Real Madrid | 2013 |
| 40 | Fabinho | Real Madrid | 2013 |
| 41 | Omar Mascarell | Real Madrid | 2013 |
| 42 | Diego Llorente | Real Madrid | 2013 |
| 43 | Tomas Kalas | Chelsea | 2013 |
| 44 | Lewis Baker | Chelsea | 2014 |
| 45 | John Swift | Chelsea | 2014 |
| 46 | Dominic Solanke | Chelsea | 2014 |
| 47 | Andreas Christensen | Chelsea | 2014 |
| 48 | Ruben Loftus-Cheek | Chelsea | 2014 |
| 49 | Bertrand Traore | Chelsea | 2015 |