With the third round of games in Euro 2016 having come to a close, it's time pick the team of the round.
We also know how the knockout stage looks like:
Let's start with the team:
Goalkeeper: Michael McGovern
Northern Ireland goalkeeper, McGovern put on a memorable performance against Germany. Despite the fact that Northern Ireland lost the game (1-0) they have qualified to the knockout stage. A part of this performance is due to the goalkeepers inspiration.
He stopped every possible shot that came towards his goal, exasperating the Germans, especially Thomas Muller. He got lucky in other occasions as Germany hit the post a few times.
Right-Back: Nathaniel Clyne
England faced Slovakia Clyne was given a chance to shine and put pressure on Walker who was very impressive in England's first two matches.
Clyne genuinely couldn't have done much more in that respect, producing an impressive display full of quality through the entire game even though the game finished 0-0.
The statistics show that he had an impressing pass success ratio of 95%, he had 2 shots and 2 tackles.
Interestingly the right-back created seven chances for England, equalling their record for a single major tournament match since 1980.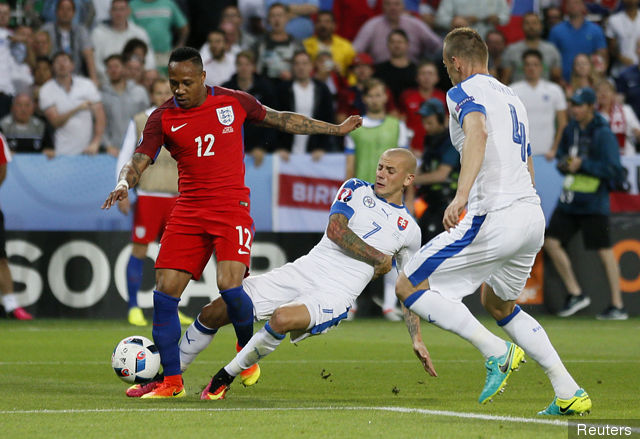 Nathaniel Clyne in England vs Slovakia(Source: Reuters)
Centre-Back: Martin Skrtel
In the same game another Liverpool defender impressed this time it was Slovakia centre-back Skrtel. The 31-year-old was excellent all evening.
Skrtel enjoyed a solid opening 45 minutes but it was after the break that the Reds centre-back really shone.
He won 3 aerial duels, he had 2 successful tackles, 2 interceptions, 6 clearances and 4 blocked shots. His goal-line clearance to deny Dele Alli was arguably the game's most pivotal moment.
Centre-Back: Kari Arnason
Iceland finished undefeated the group stage, maybe the biggest surprise at the Euros until now. Arnason had a big contribution to this performance as he impressed in the last game against Austria that finished 2-1 for Iceland after a late goal.
Arnason had an important part in Iceland's first goal as he deflected the throw in, the ball ended up at Budvarsson who scored from close range.
Austria pressured the Icelandic defence immensely after that and early in the second half an Austrian opportunity saw Arnason helping out with a goal line clearance and Halldorsson saving from Alaba at close range.
The 33-year-old defender had 1 interception, 6 clearances and 3 blocked shots.
Left-Back: Tomas Hubocan
The Slovak left-back had a tough job in keeping Lallana and Clyne away from the goal, but he did very well and the game finished 0-0, Slovakia earning the third place in the group and they will face Germany.
If we look at the numbers we can see why he succeeded in keeping clean sheet. He had 4 tackles, 3 interceptions, 4 clearances and 3 blocked shots.
Central-Midfield: Ledian Memushaj
Albania obtained their first ever victory at the Euros against Romania (1-0) but despite this they were eliminated as their goal difference was the worst of the third placed teams.
Nevertheless Memushaj impressed in this game. His willingness to break through midfield lines and support attacks was crucial for this toothless Albania side that can struggle to score goals.
It was his inch-perfect cross that led to Sadiku's goal, he was named "Man of the match" and the numbers support him.
If we take a look at the numbers, we see he had 2 interceptions and 3 tackles but his biggest contribution was in the offense where he had 3 shots(2 on target), 7 key passes and 2 dribbles.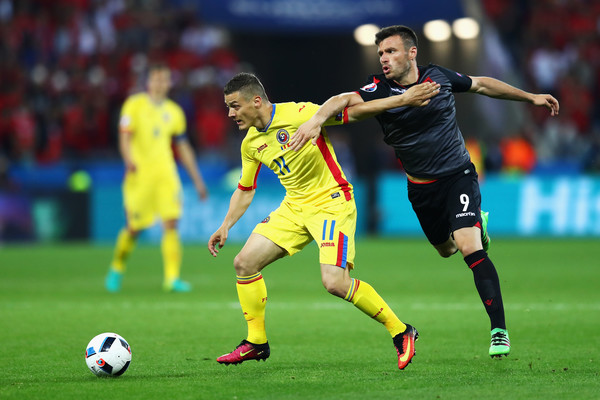 Memushaj in Romania vs Albania(Source: zimbio.com)
Central-Midfield: Aaron Ramsey
Wales obtained an important victory against Russia 3-0, and they finished first in their group. Ramsey had an excellent game.
He scored the first goal of the game and was on of the key figures in Wales' creative section. He had 4 shots (2 on target and 1 goal) but he also had 6 key passes, 4 dribbles and 84% of pass success ratio.
Right-Wing: Gareth Bale
The Real Madrid star scored in all three matches in the group stage, and he is the first player to do so after Ruud van Nistelrooy and Milan Baros in 2004.
He was named "Man of the match" as he impressed with 8 shots, 6 of those were in target and 1 found the net. He had 3 key passes, 8 dribbles and 88% of his passes found their target.
Wales will face Northern Ireland in an all british encounter in the round of 16, if Bale continues his form Northern Ireland defenders will have a tough night.
Attacking-Midfield: Kevin De Bruyne
For the second time in row the Belgian playmaker is in our match of the round. Belgium won 1-0 after Nainggolan's goal and finished second behind Italy.
It is not a surprise as De Bruyne again ran the midfield for Belgium, he combined particularly well with the other forward players. He created several chances, made good runs and some excellent long crosses.
If we take a look at his numbers, we can see that De Bruyne had 4 shots(2 on target), 7 key passes and 2 dribbles. Regarding his passing: 80% of his passes found their target and he had also 15 crosses.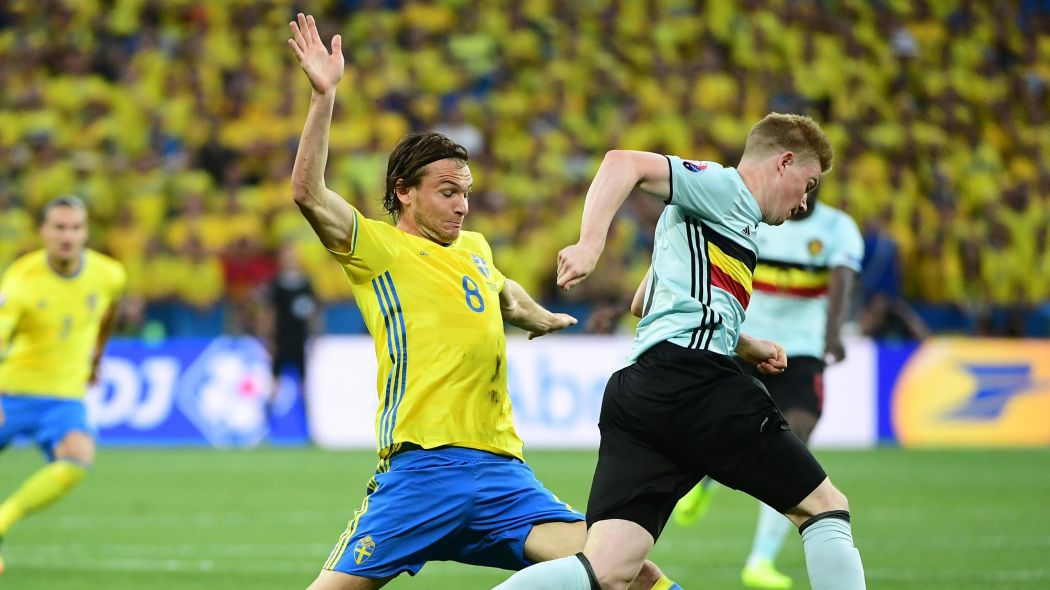 De Bruyne in Sweden vs Belgium(Source: eurosport.com)
Left-Winger: Balazs Dzsudzsak
Hungary was another surprise besides Iceland, both in group F. Hungary finished first in their group undefeated. They offered the best game so far at the Euros in a 3-3 draw against Portugal.
Dzsudzsak impressed in this game, he scored two goals, both coming after free-kicks. The first one directly from free-kick with a lucky deflection from the Portuguese wall.
The second one came after a blocked free-kick collected by the same Dzsudzsak and his second shot was again deflected and found the net.
If we take a look at the numbers, we can see that he was 100% efficient in this game as both shots on target found the net. He also had 5 crosses and 76% of his passes found their target.
Forward: Cristiano Ronaldo
Cristiano Ronaldo didn't perform as it was expected from him in the first two games, failing to score a goal, but in this game he showed why he is considered as one of the best(or the best) players at the moment.
Portugal was led three times by Hungary, but they managed to level the game every time thanks to the in-form Ronaldo, first by his assist to Nani.
Then he scored one of the best goals we have seen so far at the Euros with a backheel, and his second goal levelled the game for the third time, with a powerful header that the 40-year-old Hungarian goalkeeper had no chance to stop.
Ronaldo had 10 shots(3 on target) he had a pass precision of 88% and he sent 2 key passes to his team mates.
Football Factz best eleven: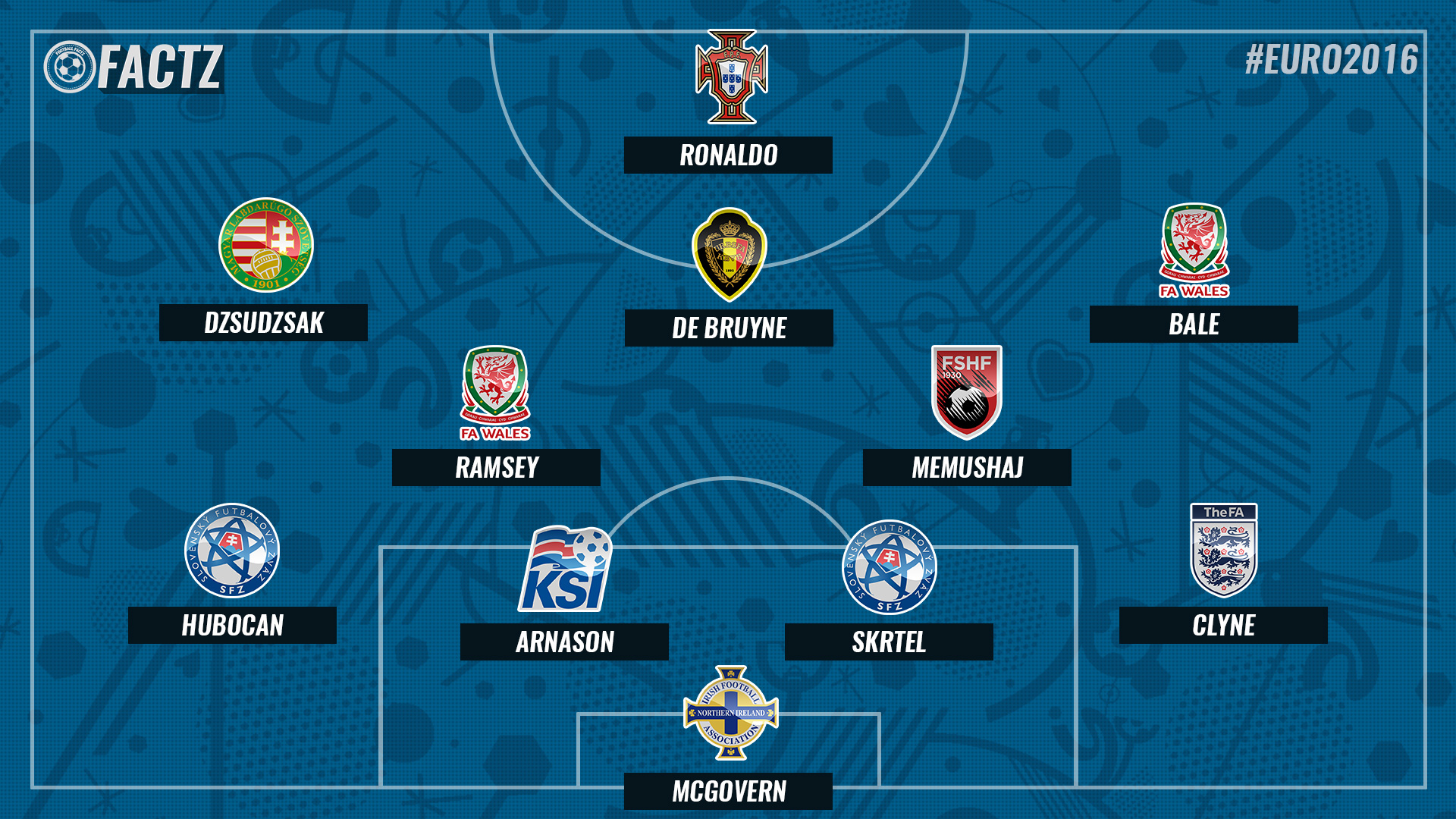 Euro 2016 team of matchday 3
Who would you include in the team?
You can check out the results: