With the second round of games in Euro 2016 having come to a close, it's time pick the team of the round.
You can check out the results:
So let's start with the team:
Goalkeeper: Robert Almer
This one is an obvious choice for me, especially that his performance is still fresh in my memory. It was Almer's brilliance that kept the score 0-0 for Austria, with Cristiano Ronaldo desperately trying to score his first goal at this edition of the Euros(and to become the first player to score at four different European Championships).
Portugal had 23 goal attempts from which 6 were on goal but Almer stopped all of them. He had luck on Ronaldo's penalty when the Portugal superstar hit the post.
He gave the Austrian defence the confidence they needed to secure the result and to keep alive their hopes of qualifying in the knockout stage.
Right-Back: Thomas Meunier
A commanding display from Club Brugge's right-back in Belgium's 3-0 victory over Republic of Ireland.
He contributed not only defensively (he won the single aerial duel he had in this game, and he had 4 successful tackles from 5 which is an 80% success ratio), but he also impressed in the offense with 77% of his passes reaching their destination.
He contributed to the second goal when Meunier delivered a perfect cross for Witsel to plant a free header beyond Darren Randolph.
Centre-Back: Jerome Boateng
A perfect game for Germany defense as they kept a clean sheet against Poland, the game finished 0-0, Boateng had a huge contribution again.
The Bayern Munich defender closed down the Poland attacker's strike, benefiting from inexplicable hesitation. Boateng was a rock at the back of the World Champions defence against a potent attack, considered potential dark horses for the trophy by many.
Statistically he won all his aerial duels, he had 3 successful tackles and had a pass accuracy of 85%.
Centre-Back: Gareth McAuley
A perfect game for Northern Ireland as they caused an upset against Ukraine, the game finished 2-0 for Northern Ireland, McAuley had a huge impact on the game.
McAuley contributed not only defensively but he opened the score-sheet just four minutes after the start of the second half. Oliver Norwood lifted a free kick into the box and Gareth McAuley rose above Yevhen Khacheridi and powered his header past Ukraine goalkeeper Andriy Pyatov.
The West Bromwich defender did well after that to keep the pressure away from their box.
Left-Back: Patrice Evra
France obtained a late victory against Albania scoring in the 90th and the 90+6th minute
Griezmann and Payet being the scorers.
Even though offensively France didn't look great, their defense did the job, they haven't gave Albania opportunities to score and Patrice Evra was one of the best players on the pitch.
One impressive statistic from Evra is the number of aerial duels won: 17, considering his stature it is an outstanding number.
Central-Midfield: Dele Alli
England obtained a late victory against Wales coming back from one goal down, after Wales got the lead before half-time.
One of the youngest players at the Euros, Alli showing footballing maturity beyond his age, 20-year-old Alli picked up an assist for Daniel Sturridge's injury time winner against Wales and impressed throughout in a role alongside captain Wayne Rooney.
Statistics: 79% of pass accuracy, 4 dribbles, 2 aerials won and 4 tackles.
Central-Midfield: Marek Hamsik
Slovakia obtained a crucial victory over Russia, with an impressive display from Napoli player Hamsik, the game finished 2-1 for Slovakia.
An outstanding performance from Slovakia's playmaker Marek Hamsik, the player created the first for Vladimir Weiss and scored a fabulous second goal.
Definitely deserves his spot in the best eleven. His stats: he had a total of 5 shots, 79% of pass accuracy and 2 dribbles.
Right-Wing: Dimitri Payet
Payet again one of the key figures in France team in the victory over Albania. It was a late victory, France scored in the 90th minute by Griezmann.
Dimitri Payet scored again after his strike against Romania, his goal came in injury time and sent the hosts top of Group A.
Statistics: he had a total of 3 shots, 76% of pass accuracy and 3 dribbles.
Attacking-Midfield: Kevin De Bruyne
After the 2-0 defeat against Italy, Belgium needed a win and they delivered not only the result but a convincing play winning 3-0 against Republic of Ireland.
It was Kevin de Bruyne who created the first goal, passing to Lukaku who scored from distance wonderfully.
Belgium dominated possession throughout, with Eden Hazard and Kevin de Bruyne proving much more effective than they were against the Italians.
Left-Winger: Nolito
Nolito impressed for Spain in their convincing victory over Turkey which finished 3-0 for Spain, assuring their spot in the last 16.
Nolito assisted Morata for the first Spanish goal, and scored the second one, he is in remarkable form for Spain, scoring 5 goals in his last five appearances for the European Champions.
Statistics: he had a total of 3 shots, 84% of pass accuracy.
Forward: Alvaro Morata
For the striker position my pick is Alvaro Morata, who scored two goals against Turkey. He is an important part of the team not only for his goals, but for his hard work and ability to create spaces.
He was lethal in this game and exactly what Spain needs to retain the title once more.
Like Nolito, Morata is also in fine form, scoring his fourth goal in the last three games for Spain.
Football Factz best eleven: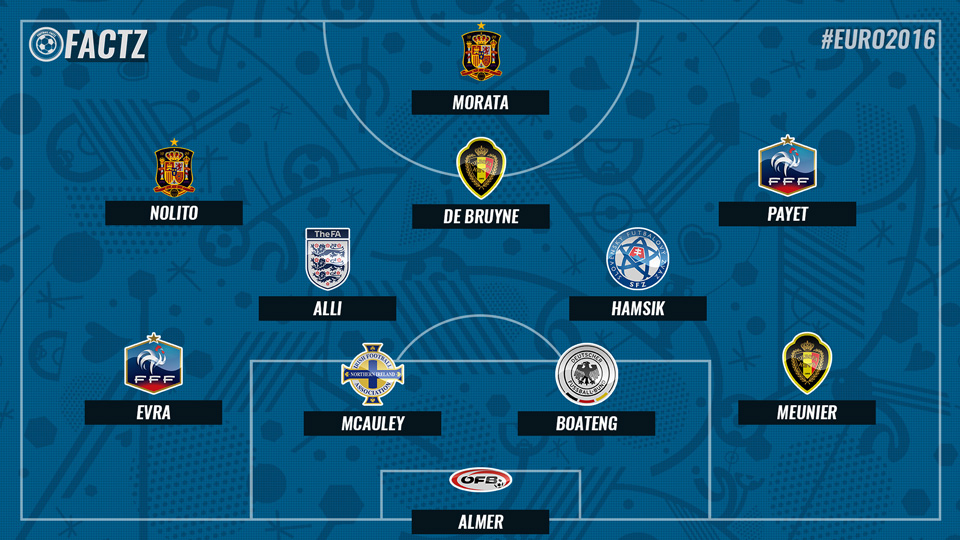 Euro 2016 team of matchday 2
Of course others performed very well this round, it wasn't an obvious choice for some of the positions. We can mention Rami(France) for the central defender position, or Witsel(Belgium) for the central midfield position or Gareth Bale(Wales) whose team almost caused an upset against England and also Lukaku(Belgium).
Who would you include in the team?