Eric Cantona (his full name Eric Daniel Pierre Cantona) was born on May 24 1966, in Marseille. He was one of football's biggest stars in the 1990s.
Throughout his career he played for Auxerre, Martigues, Marseille, Bordeaux, Montpellier, Nîmes and Leeds United before ending his career at Manchester United where he spent his best years.
He was a physically strong, hard-working, and tenacious forward, who combined technical skill and creativity with power and goalscoring ability, he was known for his temperamental play. He had a crucial role in reviving one of the biggest English clubs Manchester United.
Auxerre career
He started his youth career at SO Les Caillols, but he was discovered by the top-division football club AJ Auxerre at age 15.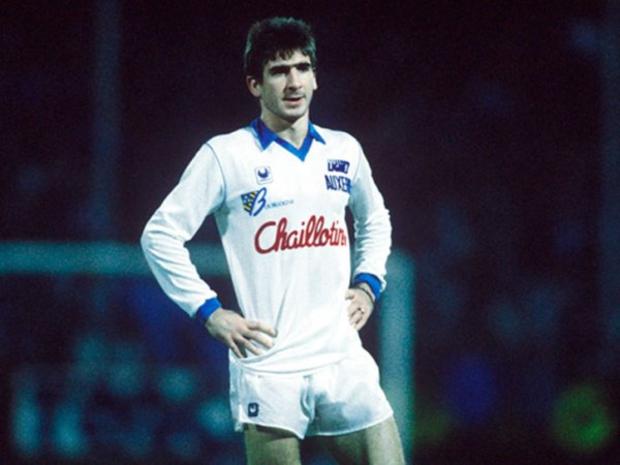 Eric Cantona at Auxerre
He made his first-team debut with Auxerre during the 1983–84 season, in a 4–0 league victory over Nancy and established himself in 1986–87. That same season he had his first international experience, playing for the French under-21 team.
In 1984 he was forced to put on hold his footballing career because of his national service, after his discharge he signed a professional contract in 1986. He was also loaned out to Martigues in the Second Division for a period.
Cantona's Martigues statistics:
| Season | Comp. | A | G |
| --- | --- | --- | --- |
| 1985-1986 | Division 2 | 15 | 4 |
After his return from the loan spell he had really good performances in the First Division and these earned him his first full international cap for France.
Throughout his career he became a controversial player because of his attitude. This problems began in 1987 when he was fined for punching team mate Bruno Martini in the face.
The following year he was suspended for three months (this was reduced later for two months) because of a dangerous tackle on Nantes player Michel Der Zakarian.
He was part of the French under-21 side that won the 1988 U21 European Championship, scoring a hat-trick in a quarter-final against the England under-21 side.
The complete stats of Cantona's Auxerre career:
Season
League
Other
Total
A
G
A
G
A
G
1983-1984
2
0
-
-
2
0
1984-1985
5
2
-
-
5
2
1985-1986
7
0
1
0
8
0
1986-1987
36
13
4
4
40
17
1987-1988
32
8
7
2
39
10
Marseille career
In 1988 Cantona was transferred to Olympique de Marseille, and his fiery temper only got worse and began to have consequences on the pitch: he was banned from the national team for a year for openly criticizing France's coach.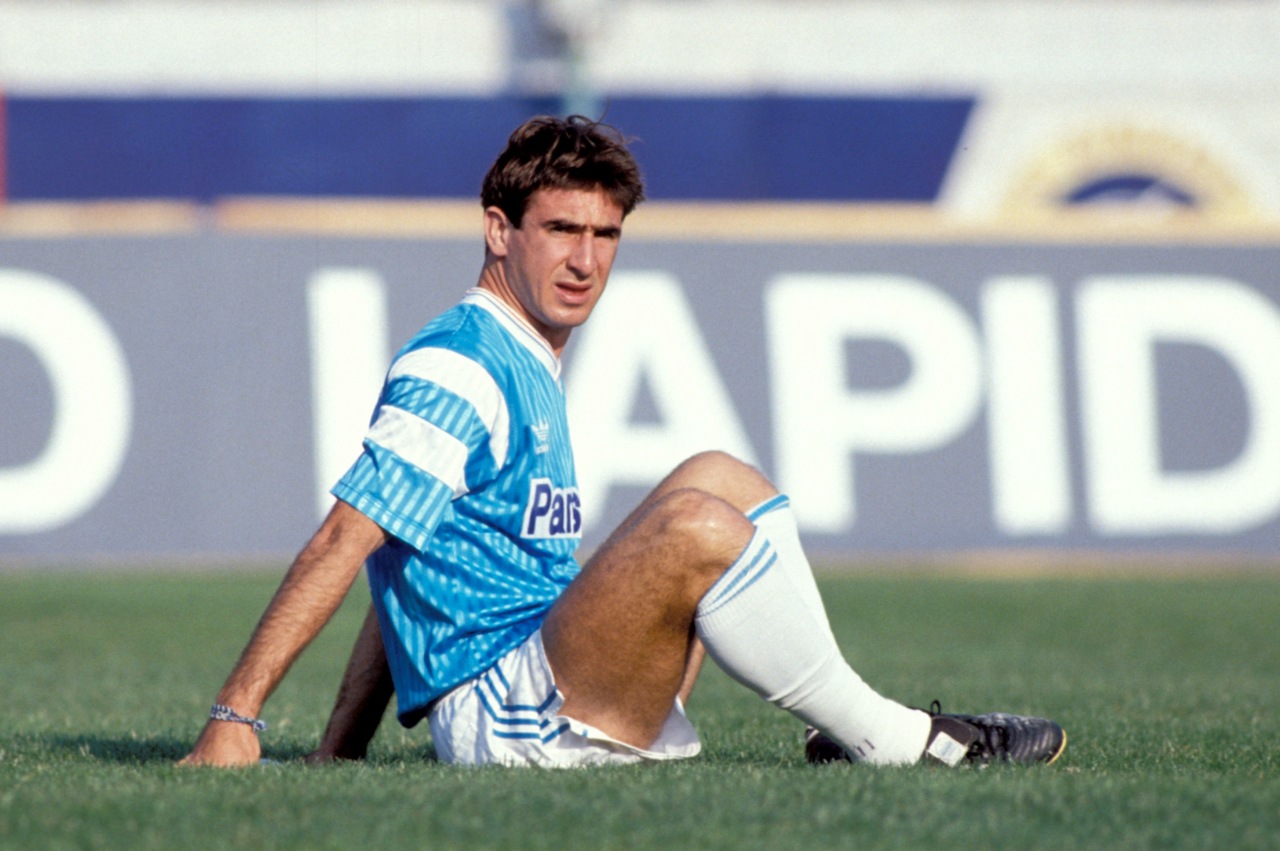 Eric Cantona at Marseille
He was also suspended from Marseille in 1989 after throwing his shirt at a referee during a charity match.
Cantona's Marseille statistics:
Season
League
Other
Total
A
G
A
G
A
G
1988-1989
22
5
-
-
22
5
1990-1991
18
8
3
1
21
9
Unhappy with Cantona's behaviour, Marseille loaned him to Bordeaux and Montpellier, where he helped the team win the 1990 French Cup.
Cantona's Bordeaux statistics:
Season
League
Other
Total
A
G
A
G
A
G
1988-1989
11
6
1
0
12
6
Cantona's Montpellier statistics:
Season
League
Other
Total
A
G
A
G
A
G
1989-1990
33
10
6
4
39
14
In the 1990-91 season Cantona won the French League title with Marseille, and that summer he was sold to Nîmes.
He became team captain but his temperament didn't change and in his first season with Nîmes he was again involved in controversy when he threw the ball at the referee and he was banned again, this led to the end of his club career in France.
Cantona's Nîmes statistics:
Season
League
Other
Total
A
G
A
G
A
G
1990-1991
17
2
-
-
17
2
Leeds United career
In 1992 he signed with Leeds United, where he became an overnight sensation and helped the team to the English First Division (now Premier League) title three months later.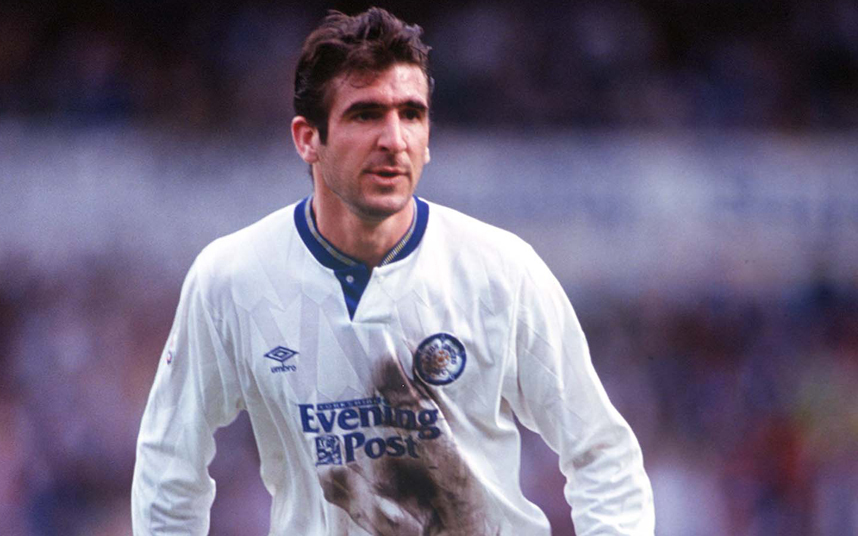 Eric Cantona at Leeds United
Cantona made 15 appearances for Leeds in their championship-winning season and despite only scoring three goals he was crucial in Leeds' title success.
Cantona's Leeds United statistics:
Season
League
Other
Total
A
G
A
G
A
G
1991-1992
15
3
-
-
15
3
1992-1993
13
6
7
5
20
11
After Leeds was eliminated from the European Cup, Cantona was surprisingly transferred to Manchester United.
Manchester United career
Cantona left Leeds for Manchester United for £1.2 million (equivalent to £2.24 million in 2016) in November 1992.
In 1993 he was a crucial in Manchester's first league title in 26 years as he became the first player to win the championship with different teams in successive seasons.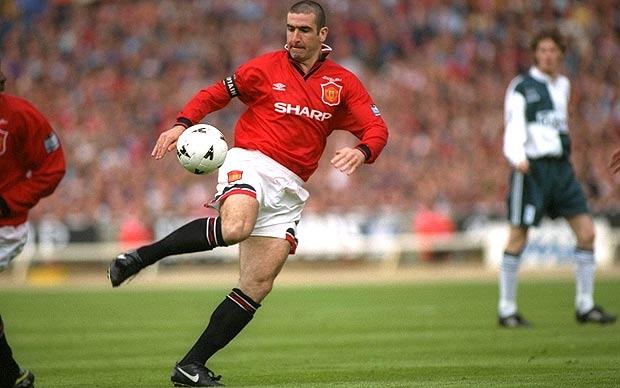 Eric Cantona at Manchester United
He led the club to a second Premier League championship as well as to an FA Cup win the following year.
But his success was shadowed by his most controversial act, kicking a fan in the chest after receiving a red card. As a result, he was banned from football for eight months and sentenced to two weeks in jail (later reduced to 120 hours of community service).
He returned to Manchester for the 1995–96 season and again United won both league and FA Cup in his first year back.
After helping Manchester in 1997 to a fourth league championship in a five-year span, he retired from football at age 30.
Cantona's Manchester United statistics:
Season
League
Other
Total
A
G
A
G
A
G
1992-1993
22
9
1
0
23
9
1993-1994
34
18
15
7
49
25
1994-1995
21
12
4
2
25
14
1995-1996
30
14
8
5
38
19
1996-1997
36
11
14
4
50
15
Club career summary
A player of high quality and outstanding skills, but unfortunately his controversial behavior kept him from doing even better things.
Nevertheless he won a lot of trophies trough his career:
2x French Champions with Marseille(88/89 and 90/91)
1X French Cup Winner with Montpellier(89/90)
5x English Champion (Leeds 92/93 and Manchester United 93/94, 94/95, 95/96 and 96/97)
2x FA Cup Winner with Manchester United ('94 and '96)
4x Community Shield Winner(Leeds '92 and Manchester United '93, '94 and '96)
Cantona's club career statistics:
Period
League
Other
Total
A
G
A
G
A
G
France total
198
58
22
11
220
69
England total
171
73
49
23
220
96
International career
Cantona made his full international debut against West Germany in August 1987 under team manager Henri Michel.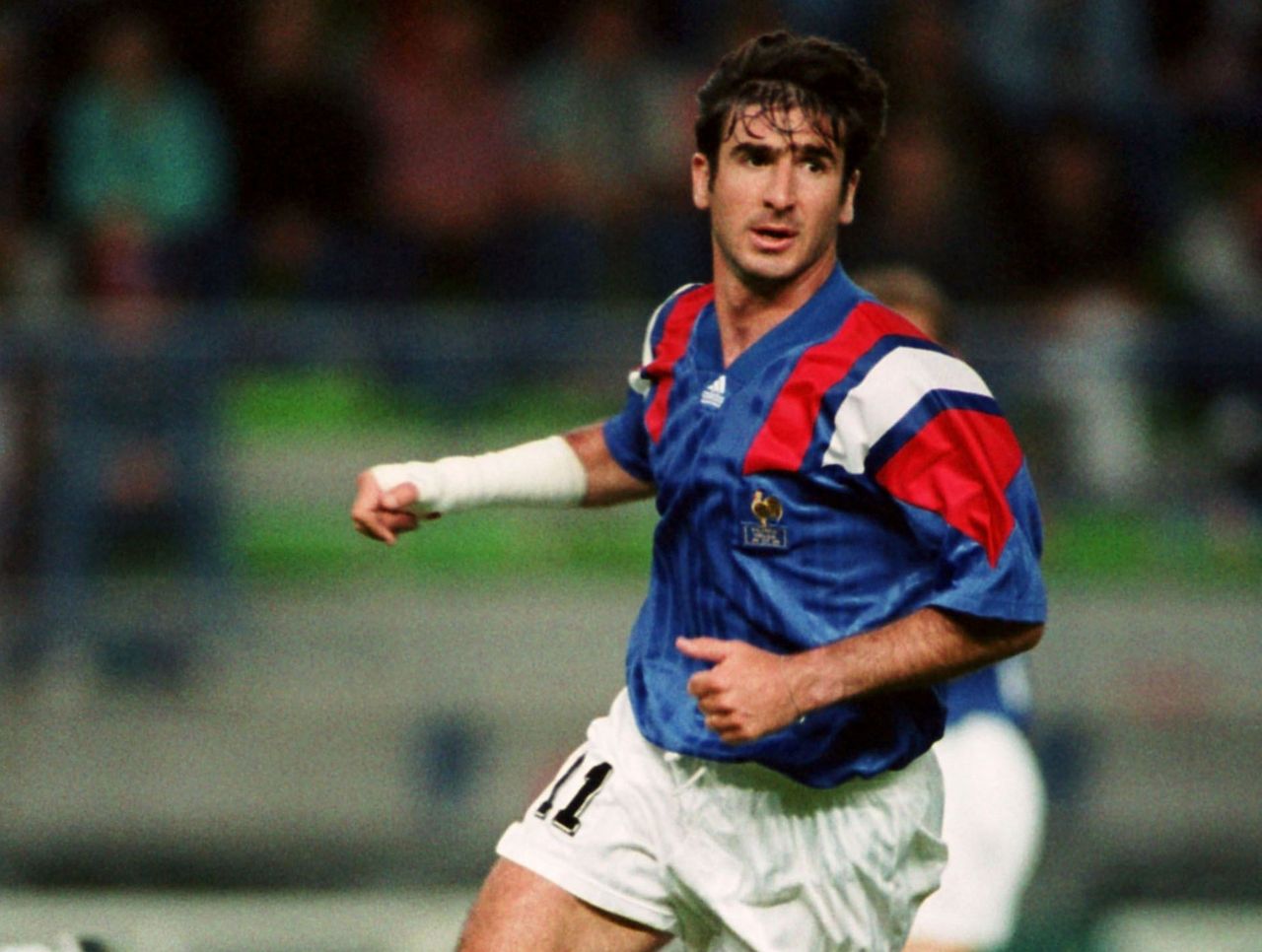 Eric Cantona - French national team
After being dropped he had an incident referring to the head-coach as a "bag of shit" and was indefinitely banned from all international matches.
The new coach was Michel Platini and one of his first acts was to recall Cantona. Platini stated that whilst he was coach, Cantona would be selected for France as long as he was playing competitive top-class football.
Actually it was Platini who initiated Cantona's move to England to restart his career.
Cantona's France statistics:
| Year | Apps | Goals |
| --- | --- | --- |
| 1987 | 3 | 1 |
| 1988 | 2 | 0 |
| 1989 | 4 | 3 |
| 1990 | 7 | 6 |
| 1991 | 4 | 2 |
| 1992 | 9 | 2 |
| 1993 | 7 | 5 |
| 1994 | 8 | 1 |
| 1995 | 1 | 0 |
| Total | 45 | 20 |