New football talents are constantly emerging in the Premier League while some of these individuals are already known and some of them even impressed in some games, others will hope they have the opportunity to do so in the next season.
For this list I considered players under age of 21 (also players that turned 21 in 2016).
So, here are 12 players who could impress in the 2016-2017 season of Premier League.
1. Dele Alli
If we talk about young talents in Premier League we must mention Tottenham's Dele Alli, he already impressed in the 2015/2016 season. Tottenham made a great deal last summer buying the young midfielder from MK Dons for €6.6m. He played 33 games last season scoring 10 goals and setting up 9 more.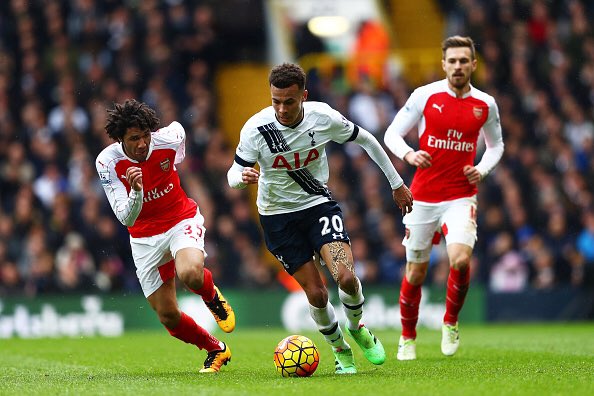 Dele Alli in Tottenham vs Arsenal(source: mirror.co.uk)
Unfortunately his performances were not enough to make Tottenham Premier League champions and they even lost the second place in the last round to their rivals Arsenal. Despite this he was named the PFA Young Player of the Year 2016 and in PFA Premier League Team of the Year.
He made his debut for England national team in october 2015 and since then he played 12 games scoring one goal and setting up 2 more. He made appearances also in Europe League, FA Cup and League Cup summing up a total of 46 appearances for Spurs last season.
| Club | Season | MP | G | A |
| --- | --- | --- | --- | --- |
| Tottenham | 2015-16 | 46 | 10 | 11 |
His impressive season earned him a place in England's Euro 2016 squad. Unfortunately for him England was eliminated by Iceland in the round of 16, one of the biggest surprises of the competition.
Overall it was a great season for Alli and if he continues his progress we can surely expect to see some great games from him this season.
2. Anthony Martial
Another young talent who already has some Premier League action in his legs is Anthony Martial. The French striker was signed by Manchester United last summer from AS Monaco for an incredible €50m transfer fee(according to several reports the fee could rise to €80m depending on the player's performances).
United had an awful season finishing on 5th place and they qualified only for Europe League next season.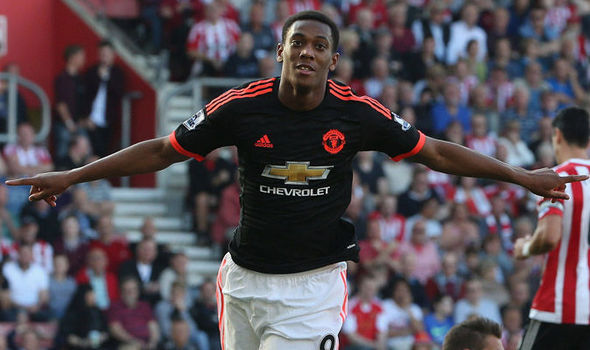 Martial in Sunderland vs Manchester United(source: express.co.uk)
Martial was one of the few pleasant surprises in United's team even though sometimes the expectations were not met, probably the pressure of the transfer fee was weighing on his shoulders.
He played 31 games in the league scoring 11 goals and providing 4 assists. He made appearances also in the Champions League, Europe League, FA Cup and League Cup summing up a total of 49 appearances for United last season.
| Club | Season | MP | G | A |
| --- | --- | --- | --- | --- |
| Man. United | 2015-16 | 49 | 17 | 7 |
Martial made his debut for France national team in september 2015 in a game against Portugal and since then he reached 8 caps but he didn't score his first goal for his country yet. He earned a place in France's Euro 2016 squad and he played only a part-role, coming on from the bench in two games, against Romania and Albania so far.
We can have great expectations from him for the next season, he had time to integrate in United's team, he has great players to learn from. But also he will have tought opponents in Wayne Rooney and Zlatan Ibrahimovic for a place in the Red Devils first team.
3. Hector Bellerin
Arsenal never lacked young talents and the first one on my list is Hector Bellerin. The dynamic right-back comes from Arsenal's youth team, although he was bought from FC Barcelona back in 2011 for a fee of €375k and made his debut in september 2014 in a Champions League game against Borussia Dortmund. He had a good run of games in the second part of the 2014/2015 season and last season he confirmed his status, becoming the number one right-back for Arsenal.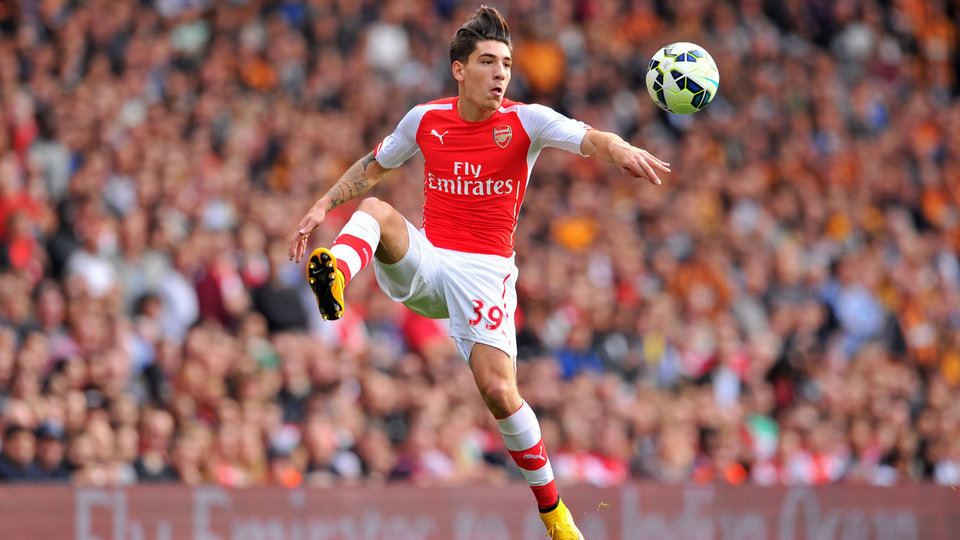 Hector Bellerin - Arsenal (source: Goal.com)
Although Arsenal lost the title to Leicester City Bellerin was definitely a positive part of Arsenal's season. He played 36 games in the league scoring 1 goal and providing 5 assists. He also made appearances in the Champions League, Community Shield and FA Cup summing up a total of 44 appearances for the Gunners last season.
| Club | Season | MP | G | A |
| --- | --- | --- | --- | --- |
| Arsenal | 2015-16 | 44 | 1 | 8 |
Bellerin made his debut for Spain national team in may this year in a game against Bosnia, since then he reached 3 caps for his country. He earned a place in Spain's Euro 2016 squad after Real Madrid's right-back Carjaval was ruled out with injury. Bellerin didn't play at the tournament and Spain was eliminated by Italy in the quarter-finals.
If he continues his progress like past years he will be definitely a player to watch this season. Several reports said that he is a transfer target for his childhood club Barcelona. If he will stay at Arsenal he will have a good chance to be the first choice for the right-back position.
4. Kelechi Iheanacho
Manchester City's transfer strategy didn't involve promoting players from the youth team in the last couple of years, but Kelechi Iheanacho is the exception. The young Nigerian player joined City in 2014 from Taye Academy.
He made his debut in august 2015, when he came in from the bench for the last minute of the game. Although City disappointed this season finishing only fourth, Iheanacho impressed, as throughout the season he got more and more playing time.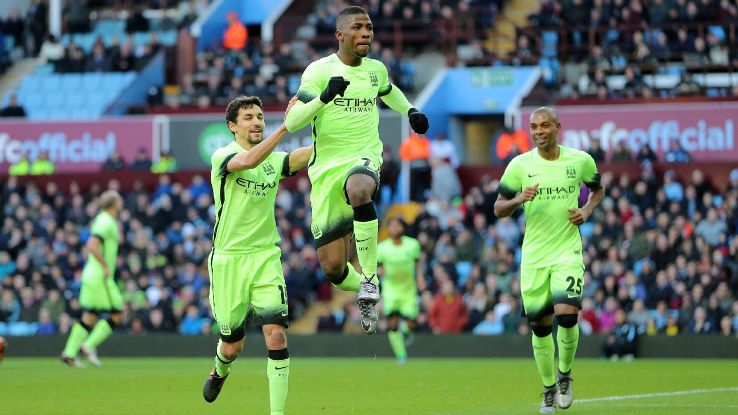 Iheanacho - Man. City vs Aston Villa (source: espnfc.com)
He played 26 games(most of them as a substitute) in the league scoring 8 goals and providing 2 assists. The 19-year-old also made appearances in the Champions League, League Cup and FA Cup summing up a total of 35 appearances for the Citizens last season.
| Club | Season | MP | G | A |
| --- | --- | --- | --- | --- |
| Man. City | 2015-16 | 35 | 14 | 5 |
Iheanacho made his debut for Nigeria national team in november 2015 in a game against Swaziland, since then he reached 4 caps for his country scoring 2 goals and providing 2 assists.
Last season he got plenty of play-time, partly because of Aguero's injuries and because Bony was not in form. He showed he can be a good option upfront and probably this season he will receive even more opportunities, we'll have to wait and see how will he fit into Guardiola's plans.
5. Brendan Galloway
Everton is a team where young talented players get a chance to impress and this is the case of 20-year-old Brandon Galloway. He joined Everton from MK Dons in 2014 and he made his debut in may 2015 in a game against West Ham United.
Galloway is a left-back who can also play centre-back if necessary. He started the 2015/2016 season as Martinez's first choice for the left-back position. But after a good first part of the season his progress saw a set-back because of a patella tendon injury.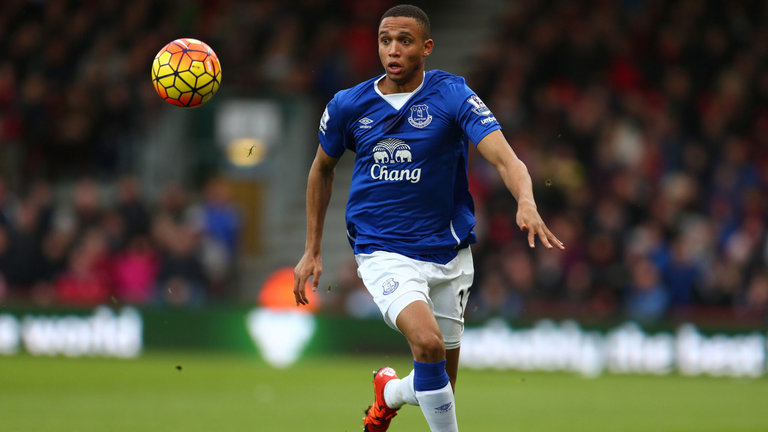 Brendan Galloway - Everton (source: skysports.com)
He played 15 games in the league proving to be a versatile player he provided 1 assist. He also made appearances in the League Cup and FA Cup summing up a total of 19 appearances for the Toffees last season.
| Club | Season | MP | G | A |
| --- | --- | --- | --- | --- |
| Everton | 2015-16 | 19 | 0 | 1 |
Galloway is an U19 England international at the moment, but he also played for the U17 and U18 teams. He played 8 games for the U19 team so far.
If he can shake off his injury he can become an important player for Everton this season.
6. Divock Origi
Divock Origi is one of a few Liverpool players on my list. He joined Anfield in 2014 from Lille for a fee of €12.5m but he was loaned back to the French team for another year. In that season of Ligue 1 he played 33 games scoring 8 goals and providing 4 assists.
By the time he joined Liverpool for the 2015/2016 season he already played 89 games for the French team in Ligue 1, Europe League and French Cup, impressive for a player of his age.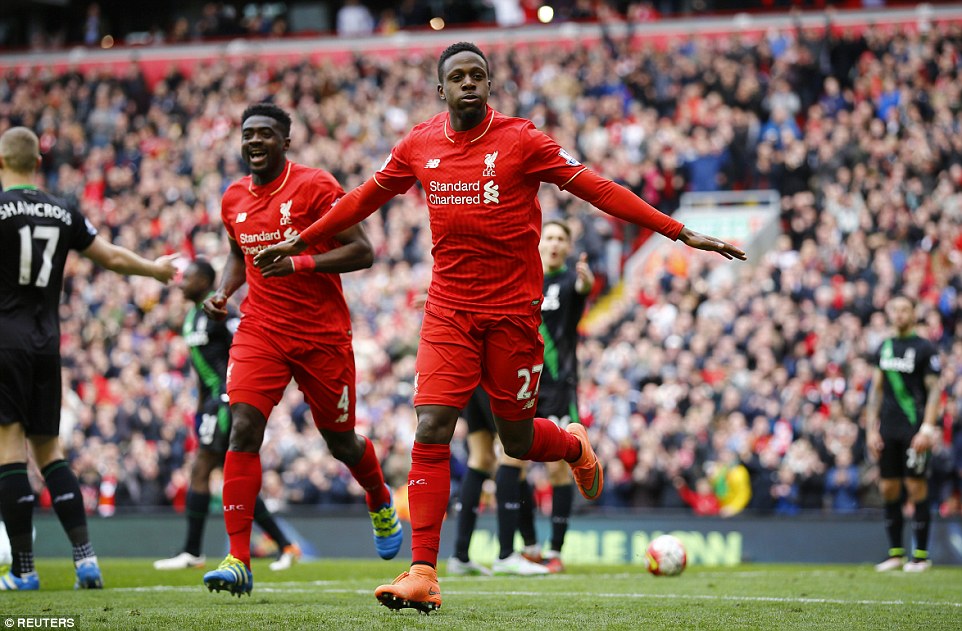 Origi - Liverpool vs Stoke (source: dailymail.co.uk)
The Belgium international is a striker but he can also play as a right or left-winger if necessary. He made his debut for The Reds in september 2015 in a game against Manchester United. He played 16 games in the league scoring 5 goals and providing one assist. He had some injury problems throughout the season, which kept him off the pitch for some periods.
He had though an important role in Liverpool's successful Europe League performance, they reached the final but they lost to Sevilla. Origi played 12 games, he scored 2 goals and set up two more.
| Club | Season | MP | G | A |
| --- | --- | --- | --- | --- |
| Liverpool | 2015-16 | 33 | 10 | 3 |
Origi made his debut for Belgium national team in june 2014 in a game against Sweden, since then he reached 22 caps for his country and scored 3 goals. He earned a place in Belgium's Euro 2016 squad but he only had a part-role for his country coming in from the bench in the games against Italy and Sweden.
If he can avoid injuries he can become a very important part for Klopp's team as none of the strikers made sure they have a guaranteed place in the team. Benteke and Ings didn't reach at all the expectations, while Sturridge was out because of injuries.
Check out part 2: